News
How To Set Up a Mineral Powder Processing Factory
2016-03-15
As We are Know,When You Set Up a Mineral Powder Processing Factory,First you may buy a Mineral Powder Grinding Mill.and When choosing a Mineral powder grinding mill machine manufacturing company, it is advisable to choose a manufacturer with a certain market share. As a business owner, you should know that the development of any enterprise needs the feedbacks from the market to help to improve the equipment and the services. If you already have some money and want to try the cheap equipment, then you can choose those enterprises that are not yet mature. However, as an entrepreneur that just starts, you may require that every penny you invest will return some day, so that you may choose a manufacturer with a certain market share, and although the cost might be high, you can obtain high quality and satisfaction.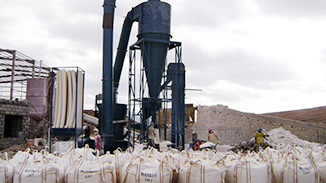 When examining the Mineral powder grinding mill manufacturer, you must go to the working site of the customers. That the sales personnel introduces to you the equipment is their responsibility, but as a buyer, you must spare no pains to examine the equipment used in the working site and communicate with the customers to know the problems that may have during the using process.

The last but not the least, choose the manufacturing companies that have the ability to undertake the whole production line. Stone production line is not like the other production lines, it should not be broken. If a production line is provided by one manufacturer with powerful strength, the configuration is expected to be optimal, and in addition, the follow-up maintenance will be convenient and cheap.
Shanghai Clirik Machinery Co.,Ltd is the professional Mineral powder grinding mill manufacturer, devoted to the Mineral powder more than 10 years. already formed a full set of modern production line, equipped with intelligent, standardized testing and controlling laboratories, owned a professional team for R&D, production, sales and service. We'll give you the most professional service as the manufacturer,And our company have gotten the ISO9001:2008, and the HGM Mineral powder ultrafine mill passed the CE certification. If you are interested in this kind of machine, we are welcoming to your visiting.