News
Clirik fluorite Ultrafine grinding mill production line
2015-07-13
Fluorite is an important mineral resources, half of the world fluorspar production for the manufacture of hydrofluoric acid, and then used to produce cryolite, as well as for aluminum industry. Refrigerator in the coolant, which use freon fluorite; in 1986, China's first generation of artificial blood but also with fluorite. In recent years, scientists are developing fluoride glass, may be made of new fiber-optic communications materials that can pass through the 20,000 km-wide Pacific Ocean without setting a retransmission station.
Clirik fluorite Ultrafine grinding mill production line is the excellent grinding plant in mining machinery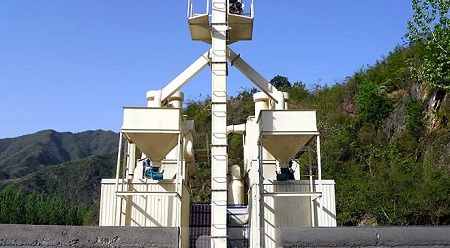 Large pieces of raw stone materials are hammer crusher into small particles after the lifting by the bucket into the storage bin, and then through the vibration feeder and inclined feed chute, the material was sent to the upper material uniformly dial plate on. Material scattered by the centrifugal force of the peripheral edge, and fall within the grinding ring raceway is looped roller impact, rolling rolling, grinding, three-ring Road after processing into powder, high pressure air through the external air suction sucked into the machine, and the material crushed powder selected band. Within the separator rotating impeller crude materials fell regrinding to meet the requirements of powder into the air into the cyclone dust collector by the lower portion of the exhaust discharge valve is finished, and the air with a small amount of fine dust is through pulse dust discharged after purification through the fan and muffler. Wherein micro-grinding mill can be selected according to different types of grinder or ring medium speed.
Clirik fluorite Ultrafine grinding mill production line has the following characteristics: can work continuously, using pulse dust collector, grinding cavity without rolling and screws, using a high-pressure centrifugal Blower device works with conventional mill completely different, low investment cost, recovery period is short, long life, generally more than one year; grinding cavity safe and reliable operation, product fineness, environmental pollution, the use of highly efficient pulse dust collector, the whole equipment operation process, no dust pollution, noise It has been effectively reduced; full accordance with national environmental standards organization of production, played a very good environmental performance, is crushing hard materials,HGM Ultrafine mill is the best equipment.
More than half of fluorite powder for the production of hydrofluoric acid, became the production of a variety of organic and inorganic fluoride and fluorine element key raw materials. In medicine, organic fluorine fluorine-containing anti-cancer drugs can also create, fluoride toothpaste containing fluorocarbon artificial blood. In the aerospace industry, hydrofluoric acid is mainly used to produce jets of liquid propellant missile jet fuel propellant. Fluorite is also widely used in glass, ceramics, cement and other building materials industries.
How, fluorite powder so useful, or if you also want to invest in mining and processing of fluorite? Do not worry, it first and best chioce Clirik machinery waiting for your advice!